Raksha Bandhan or Rakhi is an auspicious occasion that celebrates the unconditional love between siblings ever since they are born. The word Raksha Bandhan translates to Safety and Bond and is a promise siblings bestow on each other to always be there, protect, and to guide each other in every situation.
Every year, Rakhi falls on a full moon night in the Hindu month of Shravan. This year it's being celebrated on Monday, August 3. A talisman, or an amulet, called Rakhi is tied on the wrists of brothers after a small ritual (Aarti) in the morning hours. Following is the mantra that is chanted while tying rakhi on the brother's wrist;
येन भादो बली राजा दानवेन्द्रो महाबलः |
तेन त्वानामिभाद्नामी त्वामाभिबध्नामी रक्षे माचल माचल ||
Meaning – "I am tying this Raksha Bandhan to you that was tied to the Demon King Bali. Oh rakshaa please do not move and waver. This year, the puja muhurat begins at 9.28 AM till 9.17 PM.
The occasion of Raksha Bandhan has also played its part during the freedom struggle of India.
To curb the nationalist uprising in Bengal, Lord Curzon decided to divide Bengal in 1905, based on religion. The timing of the partition coincided with that of Raksha Bandhan. Rabindranath Tagore vehemently opposed the idea of partition of Bengal called on the people, deftly using the concept of brotherhood, togetherness, and 'the thread of protection' as a medium to protest against British's partition policy by showing a picture of unity among the two communities.
Following Tagore's call, hundreds of Hindus and Muslims in Kolkata, Dhaka, and Sylhet came out in large numbers to tie Rakhi threads as a symbol of unity. The partition of Bengal was revoked in 1911 but the religious venom still led to the partition of India in 1947.
Tagore's attempt at unifying Bengal using Raksha Bandhan portrays how a festival can act to unite a community and society. His poem on RakshaBandhan, "Amar Sonar Bangla", "Banglar mati Banglar jal" (O Lord! give blessings to the Earth and Water of Bengal) amplifies a sense of love for the motherland and the countrymen. In Tagore's Heartland Santiniketan, the tradition still flourishes where University students and locals tie rakhi to their neighbours and fellowmen.
Let's take a glimpse of some of the few historical accounts for the celebration of the auspicious Raksha Bandhan :
Battle of Hydadpes: Alexander the Great and Porus
Another tale has it that when Alexander the Great invaded India in 326 BC, his wife, Roxana sent Porus a sacred thread and asked him not to harm her husband on the battlefield. Honouring the request, when he confronts Alexander, he refuses to kill him. Eventually, Porus would lose the battle of the Hydaspes River but would gain Alexander's respect and honour. Eventually, after his death, Porus would become a very loyal Macedonian satrap
Humayun and Chittor queen Karnavati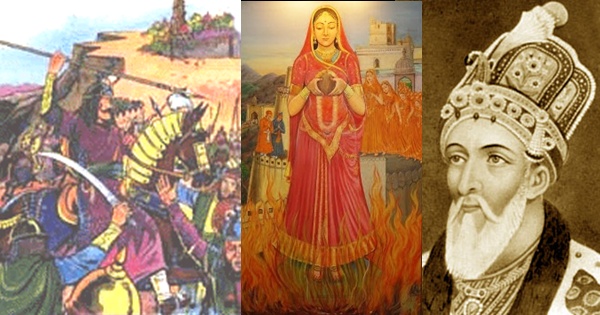 It was an instance from the biography of Mughal Emperor Humayun, where the king restored the kingdom of Chittor to keep his brotherly promise. Humayun received a rakhi from Chittor queen Rani Karnavati with a request to protect her kingdom from Gujarat Sultan Bahadur Shah's invasion. Though Bahadur Shah invaded the kingdom and Rani Karnavati, with other women, set themselves on fire to avoid captivity, Humayun honoured the rakhi sent to him by restoring the empire and giving it to Rani Karnavati's son, as a symbol of respect and love.
Lord Krishna and Draupadi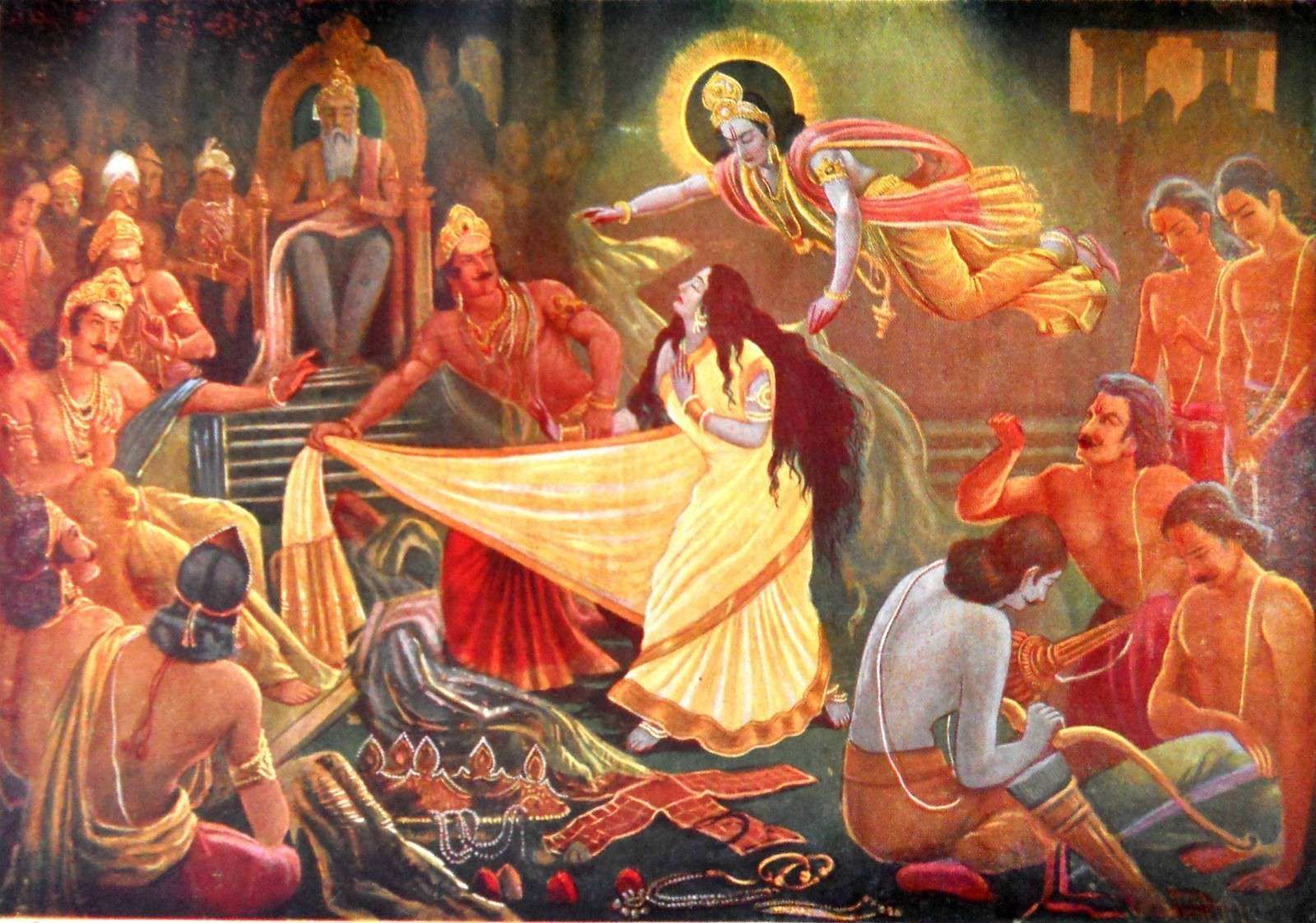 The epic novel 'Mahabharat' gives a sense of brotherhood and humanity coined with this festival. It is said that once Krishna got his wrist slit during a war. Draupadi, seeing the oozing blood tore a piece from her Sari and tied it around his wrist to stop the blood. Krishna was extremely touched by this gesture of Draupadi and promised to protect her whenever she would need it. Krishna fulfilled his promise when the Pandava lost her in gambling bet to the Kauravas. When Kurava tried to disgrace Draupadi during the episode of 'Vastraharan', Lord Krishna ensured her dignity stays intact.
Goddess Lakshmi and Demon king Bali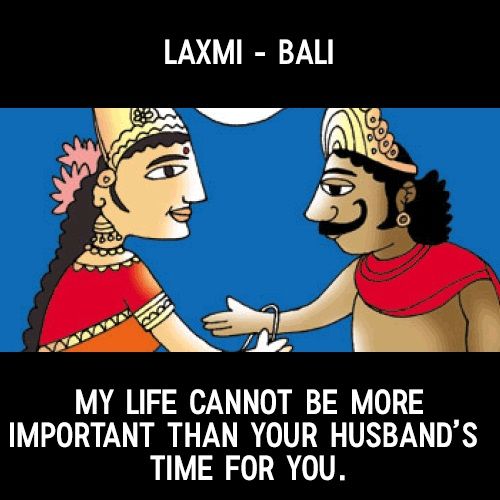 As a part of a promise, Lord Vishnu had been protecting his devotee and the demon King Bali, disguising himself as his doorman. Back in Vaikuntha, the abode of Vishnu, his consort Laxmi has been missing him. Disguising herself as a woman seeking a shelter to live in since her husband has been away, she approaches Bali. The generous king opens the doors of his palaces for the lady. As Laxmi, the goddess of wealth and prosperity enters the household, Bali begins to prosper. On the full moon day of in the holy month of Shravan, Laxmi ties a thread of coloured cotton on Bali's wrist and wishes for protection and happiness. Bali asks her what she desires and promises to fulfil it. Laxmi simply points to the gatekeeper who now reveals his real identity. The goddess follows suit. Bali keeps his promise as he requests Vishnu to return to his home with his consort. In return, Vishnu promises to return and be with Bali for four months of each year.
Yama and the Yamuna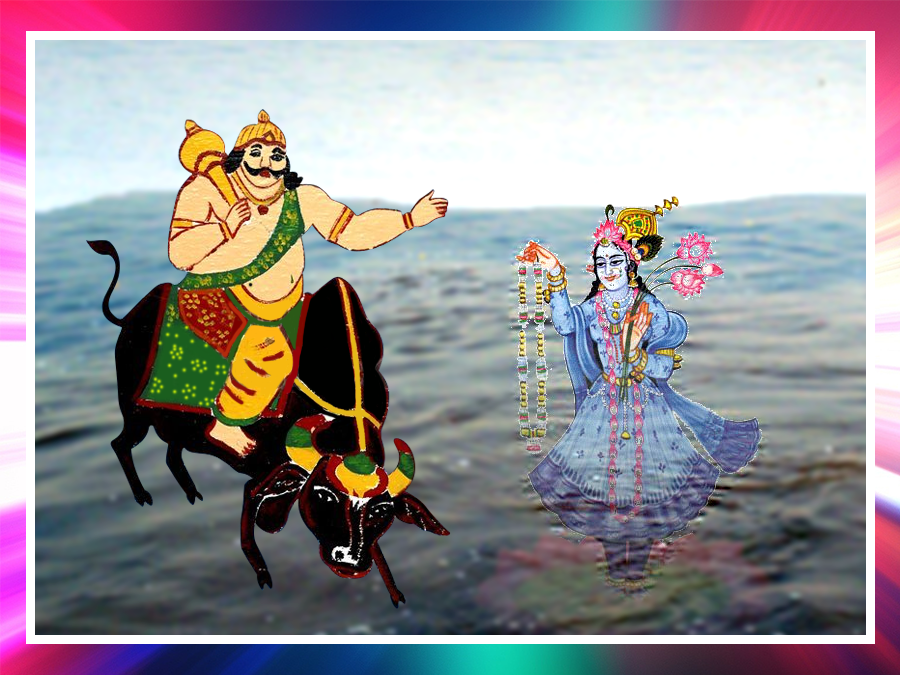 According to another fable, the ritual of Raksha Bandhan was followed by Yama, the Lord of Death, and the Yamuna, the river that flows in India. The story goes that when the Yamuna tied a rakhi to Yama, the lord of death granted her immortality. And so moved he was by the gesture, he is said to have declared that any brother who has tied a Rakhi and offered to protect his sister would also become immortal.
These are some of the legends and myths that are associated with this day of the siblings but Raksha Bandhan 2020 is different from what we have ever witnessed. The majestic grandeur of the auspicious occasion is drastically diminished because of the coronavirus pandemic. Therefore it is of utmost importance that prevention must be meticulously taken so the motto of the occasion doesn't get void. And wish that the prayers of our beloved ones could relieve us from the wrath of this virus.
from The Second Angle